ABOUT US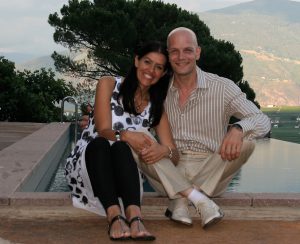 Johann Burger, a certified consultant of Vastu-Geobiology, has been involved with meditation, Yoga, Ayurveda and Vastu (Vedic architecture) for more than 35 years. His wife Valeria, a certified consultant of Vastu-Geobiology, has also been dealing with these issues for more than 20 years.
In this historical moment, where daily life rhythms are frenetic and full of stress, this wonderful Vedic knowledge is proposed to us – a timeless universal knowledge, which Maharishi Mahesh Yogi, in his life span, has brought to light. Maharishi was also the one whom opened the door to spirituality, showing access to the most authentic values ​​of life – to him goes the most sincere and profound gratitude.
Fascinated by the infinite possibilities of this wonderful culture, Johann and Valeria have been great friends of India for many years. About 15 years ago they built, together with some friends, a Vedic center, "Maitreyi", in Tamil Nadu, in southern India (www.maitreyivedic.in). A small paradise, designed and built according to Vastu principles and managed primarily by Indians, according to environmental and social policies.
After years of friendship with the world-renowned Vastu expert, engineer and urban planner, arch. dr. Prabhat Poddar from Pondicherry-India, they did a 3-year training course on Vastu with dr. Prabhat. Since 2010, with his consulting, they have been involved in the construction of their new plant (production, offices and housing units) in Bühl-Germany.
Full of enthusiasm and fascinated by this ancient building art, Johann and Valeria are on hand to share this wonderful knowledge with all those who wish.